Trick riding
Trick riding
During trick riding, the rider performs various stunts while riding, such as standing upright on the back of the animal, hanging upside down off of one side or jumping off and back on again during high speeds. Trick riding is typically carried out on a horse, but can be done with other mountable animals as well.
The act of performing various stunts to show off ones riding skills is probably as old as riding itself. We do for instance know of ancient Roman games that involved acrobats displaying their skills on cantering horses.
In the United States, trick riding has traditionally been a part of rodeo events, where several trick riders would compete against each other and earn points depending on the difficulty of their tricks. Some of the early trick riders were Cossacks who had emigrated to North America from Russia. In the 1940s, many rodeos stopped featuring competitive trick riding. Instead, trick riding performances were shown as entertainment only, with no price money involved.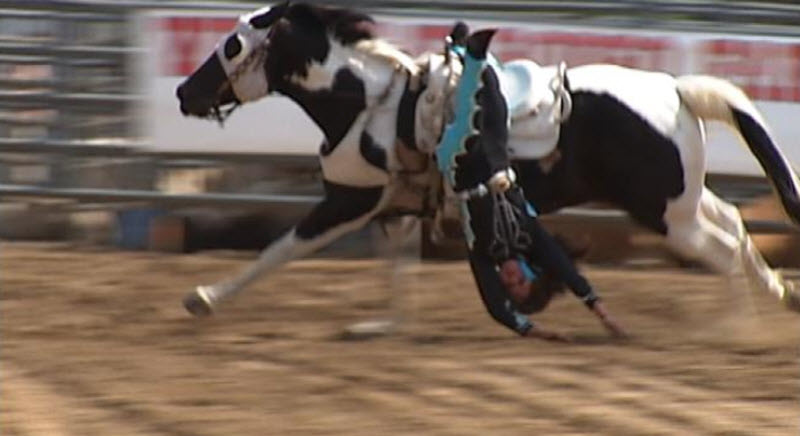 Examples of tricks
One foot drag
Back drag
Spritz stand
Shoulder stand
Reverse one foot stand
Forward fender
Layout fender (Indian Hideaway)
Spin the horn
Hippodrome
Vault
Roman riding
In Roman riding, the rider stands atop a pair of horses, with one foot on each horse. This trick is a common entertainment feature of rodeos, circuses and horse shows. Some riders use more than two horses.
Stunt riding
Trick riding is an essential part of trick ríding. Examples of highly skilled stunt riders from the big screen are Hank Durnew, Shirley Lucas, Sharon Lucas, Ken Maynard and Rex Rossi. Shirley Lucas and Sharon Lucas worked as stunt doubles for many of the most celebrated actresses of Hollywood, such as Lana Turner, Lauren Bacall, Betty Grable and Marilyn Monroe.
Rex Rossi
World Champion Trick Rider in 1950
World Champion Trick rider in 1961
World Champion Trick Roper 1971
Hall of Fame Movie Stuntman
Rex Rossi was a riding stuntman in movies such as Gunsmoke and Bonanza, and doubled for many famous actors, including Clint Eastwood, Bob Steele, Roy Rogers and Kevin Costner.
Ken Maynard
Kenneth Olin Maynard (1895 – 1973) worked as a stuntman and actor in over 90 different films. He was an accomplished horseman and trick rider who spent his youth working at carnivals, circuses and rodeos. For a while, he was a trick rider with the famous Buffalo Bill's Wild West Show.
Maynard appeared in his first film in 1923, a silent movie where he worked as both stuntman and supporting actor. The following year, he started working in western movies, where his skills with horses made him the perfect cowboy action actor. In his career, he would often do scenes involving dangerous riding. His white stallion Tarzan also became famous and featured in many films.
Maynard's action scenes with horses were so great that the film studio chose to reuse them in several movies; either starring Maynard himself or movies where the old film clips would be used as stunt doubles for other actors, particularly John Wayne or Dick Foran. There are movies where John Wayne or Dick Foran is costumed to look as much like Maynard as possible, so that the old footage could be used.
Equestrian vaulting
Equestrian vaulting is one of ten equestrian disciplines recognised by the International Federation for Equestrian Sports (Fédération Équestre Internationale or FEI). As a competitive sport, it is especially popular in Europe, with Germany and Switzerland being two of the trailblazing nations.
Middle Age European history contains numerous references to equestrian vaulting. The English term vaulting is derived from the French la voltige, a name used for this activity since the Renaissance period. Back then, voltige was carried out by cavalry riders as a riding and agility exercise.
The first FEI World Vaulting Championship took place in Bulle, Switzerland in 1986.